Programming for Human Rights in Kenya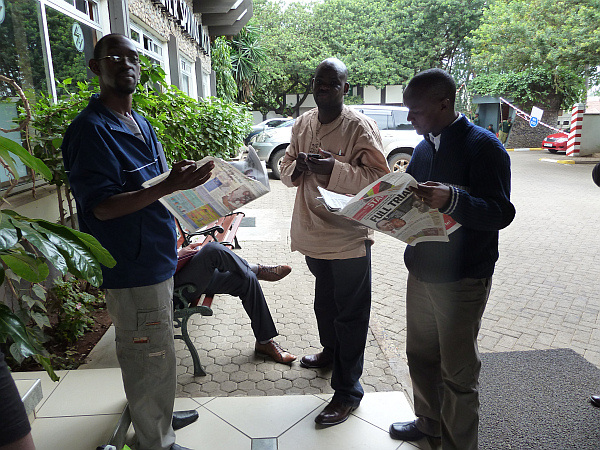 It's been really interesting to spend a week with Article 19 in Kenya, facilitating a project management workshop for their Nairobi and Dakar staff along with their partner organisation IDPAC (Internal Displacement Policy and Advocacy Committee). We used the Internally Displaced People's project as a case study during the week, which kept the course practical. The IDPAC staff were displaced people themselves which brought the voice of the 'beneficiaries' right into the heart of the discussions and grounded the planning and logframes in the reality of the issues they face.
The training brought out some interesting themes. One of these was how to better capture and communicate learning from the project.  In a discussion on impact, for example, Leonard (of IDPAC) told us that as a result of a training course that A19 had run, some displaced people had met with local government officials to lobby for their right to be given some land and compensation – this is exactly what the project aims to do. The A19 staff involved in the training had not realized the link with the training, and were delighted.
The issue of the displaced in Kenya is a direct result of the election violence from 5 years ago so there is great fear that there will be a repeat again during the elections later in the year. The papers were full of reports on the indictment of 4 members of the government at the International Criminal Court in the Hague. This makes projects like A19's highly risky as there is so much in the external context that is out of their control. In project management, this is an area which needs extra time and thought – teasing out assumptions and risks and deciding what is acceptable risk; how to build in a 'Plan B' and how to build in resilience by investing in people's capacity to respond to change.